Introduction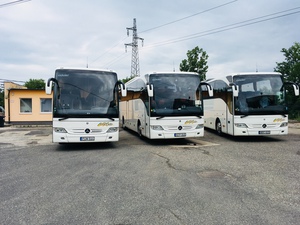 Our family business has been dealing with passenger transportation since 1991, so we have more than three decades of experience in travelling. Our main activity is national and international passenger transportation by bus. Our vehicles are suitable for groups of all size, from 15 to 55 people, for the transportation.
If you are looking for a bus, please write.
From Ukraine to London, from Sicily to Transylvania we take you anywhere comfortably and safely.
We can offer transfer, sightseeing tours, trips, Europe tour, contractual bus services, transportation to cultural and sport events for companies, schools and for individuals.
As a result of the continuous improvement our vehicles are now Mercedes, Man, Setra and Neoplan type, luxurious buses, which are symbolize reliability and comfort in the whole world.
To transport smaller groups we have 15-21-person minibuses, which are suitable for long-distance travelling. In case of transporting large quantities of luggage, trailer can be provided.
Our goal is to suit to our clients to become returning partners.
Our bus driver's decades of routine, experience guarantees that we provide a safe, high quality passenger transportation.
Our buses are complying with the current Hungarian and EU rules in all respects.